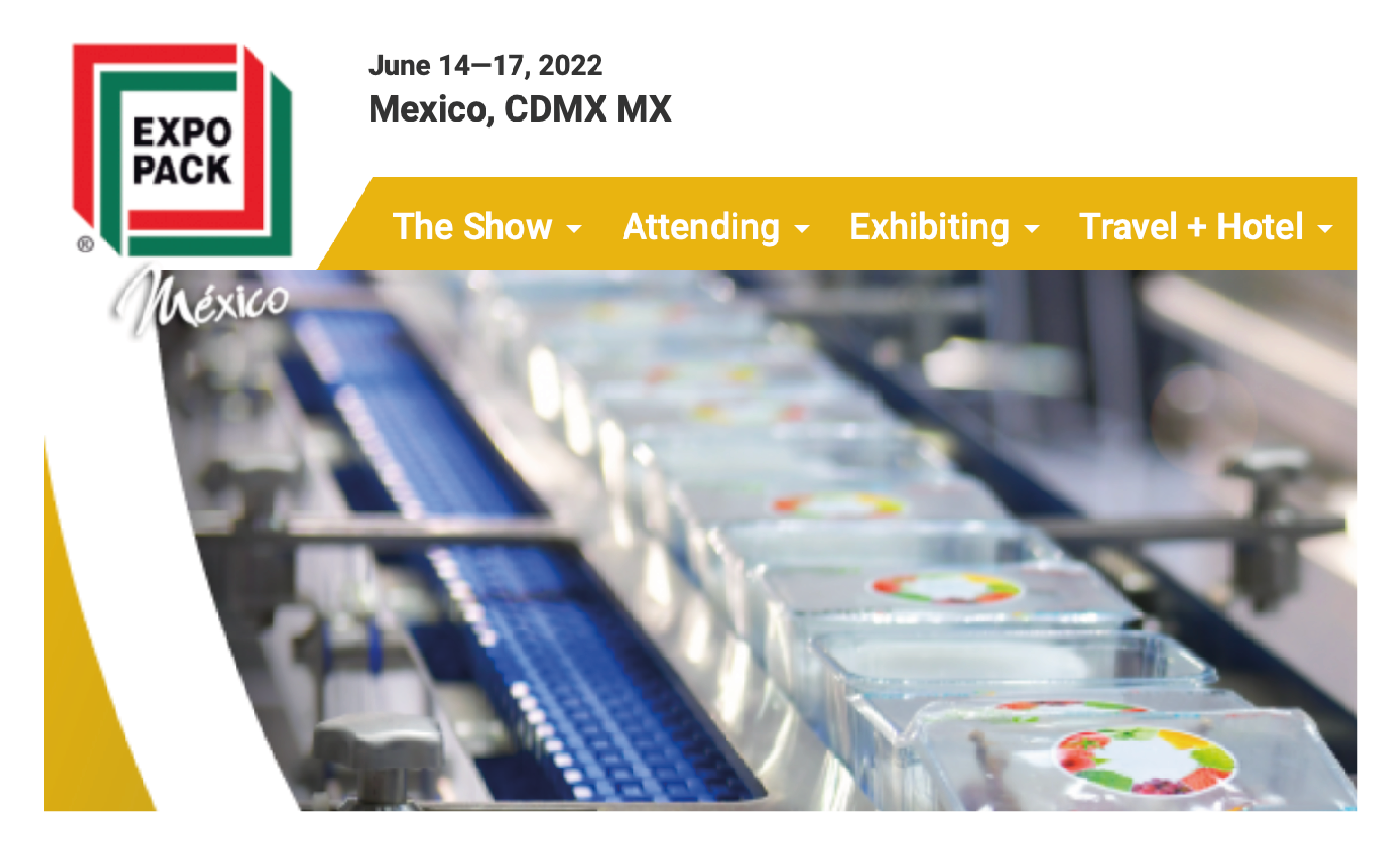 Join us at booth 1004 (ITA pavillion) at EXPO PACK México 2022, Mexico City from 14-17 June and discover what's new from the team at IM GROUP

IM GROUP is an invited representative of the Italian Trade Agency.

EXPO PACK México 2022 is the the most important event for packaging and processing professionals in Latin America. It is produced by PMMI, the Association for Packaging and Processing Technologies and showcases the latest packaging and processing technologies, innovative sustainable solutions and a cutting-edge educational program as well as important developments in the packaging and processing industry to address attendees' most critical challenges. Attendees will have the opportunity to explore and interact with a wide variety of machines, materials and other goods and services to find solutions to these challenges.
EXPO PACK México 2022 will gather the top suppliers in packaging and processing from around the world to showcase the latest technologies in action, sustainable solutions, and innovative machinery and materials that cover 40+ vertical markets. A world-class educational program will feature daily keynotes and show floor education covering a wide range of industry topics from key players and suppliers in the packaging and processing industry. 
 
Dates and Times: 
Tuesday, June 14
Wednesday, June 15
Thursday, June 16
Friday, June 17

1:00 - 8:00 PM
1:00 - 8:00 PM
1:00 - 8:00 PM
1:00 - 7:00 PM
"EXPO PACK México provides free world-class education and access to over 700 solutions providers ready to make connections and provide the latest solutions all under one roof", said Laura Thompson, vice-president of Trade Shows at PMMI.
Impulso PYME Program
This year, exhibitors offering additional resources for small to medium-sized companies will be highlighted with the launch of the EXPO PACK Mexico Impulso PYME Program. Attendees simply need to look for the Impulso PYME logo in the online exhibitor directory or exhibitor's booths on-site.
World-class education
EXPO PACK México 2022, for the first time, will offer the educational program EXPO PACK Keynotes, covering issues that are crucial for the packaging and processing industry. In these presentations, beginning at noon June 14, 15, and 16, industry knowledge leaders will present their perspectives about the circular economy, sustainability, and automation and robotics in packaging and processing operations. Also, for the first time in EXPO PACK México, the Forum of Leading Women in the Industry will be held, sponsored by the Packaging & Processing Women's Leadership Network (PPWLN). Also, creativity will have its own special scenario in the Innovation Stage, where advancements and best practices of the industry will be presented in 30-minute sessions.
This educational program will be complemented by parallel events hosted by three associations deeply involved with the packaging and processing industry. They are:
The International Society of Beverage Technologists (ISBT will for the first time in conjunction with EXPO PACK Mexico showcase their BevTech LATAM program.Their extensive program will cover healthy ingredients, sustainable processes and packaging, and resource & energy savings and will take place on June 15 from 9 am until noon. It is is free to attend for the association's members and costs $225 for non-members. The detailed information for this event can be found here: www.expopackmexico.com.mx/es/education/BevTech.

The Mexican Packaging Association (AMEE) will celebrate their XXXIV National Congress on June 14 from 8 a.m. to 1:30 p.m. and will host the awards ceremony for their renowned contest Envase Estelar. Some of the most outstanding prize-winning packages will be in display at the Showcase of Packaging Innovation on the exhibitor floor. And, between the 15 and 17 of June, from 9 a.m. to 1:15 p.m., AMEE will also present a free five daily conference cycle on current issues for the sector.

The Association for Advancing Automation (A3), will host "Safety Design Training Incorporating ISO 13849-1", a training course offered by the Pilz leader in Certified Machinery Safety Expert, Benjamín Santiago of CMSE, which will allow attendees to learn about the advancements in safety standards for companies moving forward in the path of automation. This event will happen on June 15 between 8:30 a.m. and 5:30 p.m.
For the latest information on everything happening during the show, visit expopackmexico.com.mx
Easy Access to the show through transportation and lodging
EXPO PACK México 2022 will provide special transportation and lodging to facilitate visitors travel to the show, while reducing carbon emissions.
The show will provide free transportation in Mexico City and the metropolitan areas through over ten programmed routes for the event's attendees. Two-way transportation services with discounted fares will also be available on June 14, departing from six high industrial activity cities: Cuernavaca, León, Pachuca, Puebla, Querétaro, and Toluca.
For attendees from different states and international travelers, EXPO PACK México offers a 10% discount on airfares from the largest domestic carriers. More information here.
EXPO PACK Mexico also guarantees the lowest hotel rates in Santa Fe surrounding hotels, with daily free bus services to Expo Santa Fe. Room reservations can be made at https://www.expopackmexico.com.mx/en/travel/book-hotel.
Attendees can register for EXPO PACK Mexico 2022 prior to May 6 for FREE and to receive their badge in the mail, granting them direct access to the event upon arrival at Expo Santa Fe. After that date, pricing for attendance will be 150 Mexican pesos. Visit www.expopack.com.mx to register.